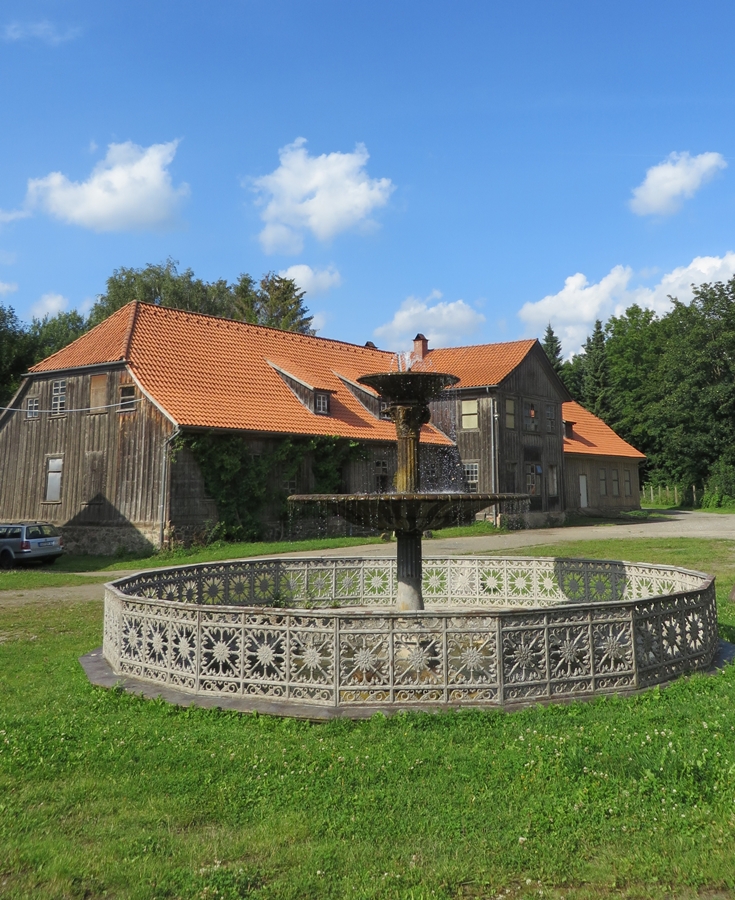 view over the hut fountain to the hut tavern
The idea for a 'get-to-know-you' - meeting between the board and new members of the sponsorship group 'Königshütte' came up a long time ago during one of the board meetings. On Wednesday, August 11, 2021, the time had come: the sponsorship group invited the new members from 2020 and 2021 to a 'get-to-know-you' meeting. Due to the pandemic because of Corona, the members meeting last year had to be cancelled, where 'old' and new members could get to know each other so far. Moreover ... membership meetings are subject to a rather tight schedule due to the agenda items, and this sometimes leaves little time for conversations.
Just over half of the new members from 2020 and 2021 attended the event at the at the hut tavern (Hüttenschenke) of the King's hut (Königshütte).  Some of the new members had cancelled with regret due to the vacation and vacation season.
At about 5 p.m. our first chairman, Mr. Hans-Heinrich Hillegeist, welcomed the new members and introduced the present members from the sponsorship group and their tasks, then the new members introduced themselves. They also reported what relationship they have to the 'Königshütte' and why they decided to become members of the sponsorship group. Roots in the town of Bad Lauterberg or former relations to company 'Königshütte' were mentioned. Several of the new members would like to become actively involved in the sponsorship group; one of the members is already doing so and supports our deputy chairman, Mr. Christian Mühl, in his tasks. Afterwards, Mr. Hillegeist and Mr. Mühl presented the current situation of the sponsorship group.  This first 'get-to-know-you' meeting ended with a small snack and interesting conversations.  - Of course, a prominent topic was the festival week in Bad Lauterberg from September 3 to 12, during which the 200th birthday of Sebastian Kneipp and 500 years of Bergfreiheit (mountain freedom, this means the privileges that miners had received in former times) will be celebrated. - Everyone agreed that the meeting was a good thing and should definitely be repeated.