On the way to the second incline in the area of the present mill, the visitor passes one of two former residential buildings that were built in 1736, i.e. still in the first construction phase. These are the official dwellings of the mill officials, i.e. the factory clerk, mill clerk, accountant, mill assistants and others. The first, still existing house, was for the trade officials, the second, which stood between the still existing and the bakery, was for the factory officials, the skilled workers who were urgently needed in an emergency and therefore had to live on site.
The workers who did not live in Lauterberg had only a meagre opportunity to make themselves comfortable on the factory floors and in a workers' house next to the moulding house, which no longer exists today.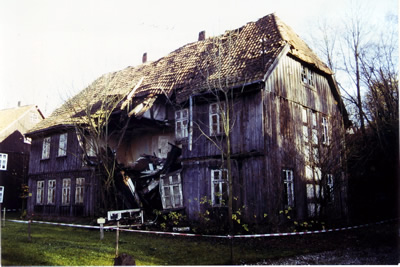 The two residential buildings were built in the typical Upper Harz architectural style: timber-framed timber framing. While the first house is still inhabited, the second one was demolished in 2006 because the sponge had nested in the truss and the house was no longer worthy of renovation.